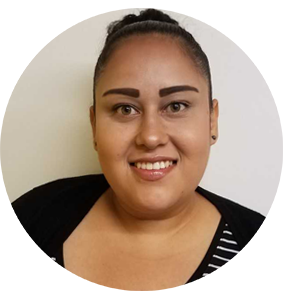 Luzia – Early Interventionist
Luzia joined our family September 2018. She enjoys spending time with her kids especially at the park, baking and cooking and says YouTube is a great resource for recipes. Chocolate covered strawberries and chocolate breakable hearts are two of her favorites and make great gifts for family and friends. Her hobbies include making things with her own hands with all sorts of material and reading books. One of her favorite authors is Gabriel Garcia Marquez and her favorite book is Cien Años de Soledad – the history of an isolated town and family who found it, the Buendías.
Listening to Mariachi & Bands and watching/listening to personal development on YouTube while cooking and driving to improve herself. One of her favorite YouTubers is Mirna Irfan a world renowned Thought Leader, Life Coach, & Spiritual Mentor and Leslie "Les" Brown an motivational speaker who was married to Gladys Knight.
Luzia received her Associates in Arts at Cerritos community college in Liberal Arts & Sciences: Social & Behavioral Science. She then transferred to CSUDH and earned her B.S. in health science: community health. Luzia plans on returning back to school in about 2 years to start her master's program in early childhood special education.
Her 2022 goals are to improve her overall health both physically and mentally, learn more about finances and to one day visit Costa Rica.
Fun fact: Luzia has been using a planner since high school and gets a new one each year. It helps her keep up with weekly tasks.
---
Luzia se unió a nuestra familia en septiembre de 2018. Le gusta pasar tiempo con sus hijos, especialmente en el parque, hornear y cocinar, y dice que YouTube es un gran recurso para encontrar recetas. Las fresas cubiertas de chocolate y los corazones rompibles de chocolate son dos de sus favoritos y son excelentes regalos para familiares y amigos. Sus hobbies incluyen hacer cosas con sus propias manos con todo tipo de materiales y leer libros. Uno de sus autores favoritos es Gabriel García Márquez y su libro favorito es Cien Años de Soledad, la historia de un pueblo aislado y la familia que lo encontró, los Buendía.
Escuchar Mariachi & Bands y ver/escuchar desarrollo personal en YouTube mientras cocina y conduce para mejorar. Uno de sus YouTubers favoritos es Mirna Irfan, una líder de pensamiento, entrenadora de vida y mentora espiritual de renombre mundial, y Leslie "Les" Brown, una oradora motivacional que estuvo casada con Gladys Knight.
Luzia recibió su Asociado en Artes en el colegio comunitario de Cerritos en Artes y Ciencias Liberales: Ciencias Sociales y del Comportamiento. Luego se transfirió a CSUDH y obtuvo su B.S. en ciencias de la salud: salud comunitaria. Luzia planea regresar a la escuela en aproximadamente 2 años para comenzar su programa de maestría en educación especial para la primera infancia.
Sus objetivos para 2022 son mejorar su salud general tanto física como mentalmente, aprender más sobre finanzas y algún día visitar Costa Rica.
Dato curioso: Luzia ha estado usando un planificador desde la escuela secundaria y recibe uno nuevo cada año. Le ayuda a mantenerse al día con las tareas semanales.