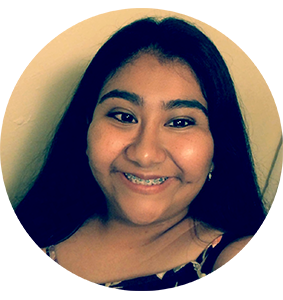 Angie – Early Interventionist
Angie joined our team in September 2020. Angie possesses natural creative skills and enjoys painting, coloring in adult coloring books, reading including autobiographies, science fiction, and non-fiction books. Tell Me How it Ends by Valeria Luiselli and The Gift of Fear by Gavin de Becker are two of her favorites. She is fond of snow globes and has a vast collection. Listening to music is an activity that she regularly enjoys. Bad Bunny, Taylor Swift and James Bay are on the top of her music list. Bad Bunny is in town in February and Angie plans on attending.
Angie graduated from Cal State LA with a Bachelors of Art in Sociology May 2020 – Go Eagles. She loves working with children and helping them reach their milestones. Her goal is to continue her education and obtain a M.S. in Counseling with an emphasis in psychology with the dream of one day opening her own preschool.
In her free time, watching documentaries, playing Mario Car with friends, and watching Disney movies are on the top of the list, but traveling is not far behind. She would like to travel to Iceland, Greece and Bora Bora.
---
Angie se unió a nuestro equipo en septiembre de 2020. Angie posee habilidades creativas naturales y disfruta pintar, colorear libros para colorear para adultos, leer, incluidas autobiografías, ciencia ficción y libros de no ficción. Dime cómo termina de Valeria Luiselli y El regalo del miedo de Gavin de Becker son dos de sus favoritas. Le gustan los globos de nieve y tiene una vasta colección. Escuchar música es una actividad que disfruta habitualmente. Bad Bunny, Taylor Swift y James Bay están en la parte superior de su lista de música. Bad Bunny está en la ciudad en febrero y Angie planea asistir.
Angie se graduó de Cal State LA con una licenciatura en sociología en mayo de 2020 – Go Eagles. Le encanta trabajar con niños y ayudarlos a alcanzar sus metas. Su objetivo es continuar su educación y obtener una maestría. en Consejería con énfasis en psicología con el sueño de algún día abrir su propio preescolar.
En su tiempo libre, ver documentales, jugar a Mario Car con amigos y ver películas de Disney están en la parte superior de la lista, pero viajar no se queda atrás. Le gustaría viajar a Islandia, Grecia y Bora Bora.