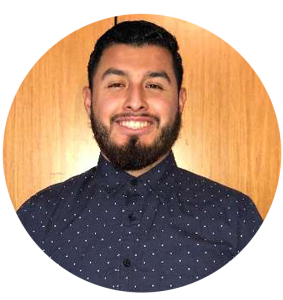 Alan – Early Interventionist
Alan graduated from California State University Northridge with a BA in Child and Adolescent Development with a minor in Recreational and Tourist Management.
Alan enjoys collecting Funko Pops, Bobbleheads, Sneakers, and Art prints. His favorite Sports teams are Liverpool FC, Barcelona, and the LA Dodgers. He loves to play soccer and enjoys spending time with his goddaughters and has a dream of helping open a summer camp for children with disabilities.
In his free time, he enjoys watching documentaries or short films on different issues around the world and in his community. He has a goal of traveling to Greece, Spain, and the United Kingdom.
"Children have never been very good at listening to their elders, but they have never failed to imitate them."- James Baldwin.
---
Alan se graduó de la Universidad Estatal de California en Northridge con una licenciatura en Desarrollo Infantil y Adolescencia y con una especialización en Administración Recreativa y Turística.
Alan disfruta coleccionando Funko Pops, Bobbleheads, Sneakers e impresiones artísticas. Sus equipos deportivos favoritos son Liverpool FC, Barcelona y LA Dodgers. A Alan le encanta jugar fútbol y disfruta pasar tiempo con sus ahijadas. Uno de sus sueños es ayudar a abrir un campamento de verano para niños con discapacidades.
En su tiempo libre, disfruta viendo documentales o cortometrajes sobre diferentes temas alrededor del mundo y en su comunidad. Tiene el objetivo de viajar a Grecia, España y el Reino Unido.
"Los niños nunca han escuchado muy bien a sus mayores, pero nunca han dejado de imitarlos". James Baldwin.