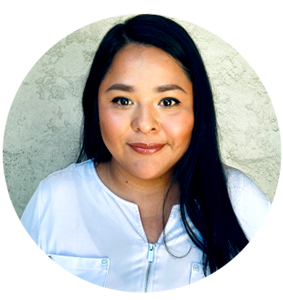 Candy – Early Interventionist
Candy Altagarica Rincon graduated from Cal State University, Dominguez Hill with a Bachelor of Arts in Psychology.
I love to play tennis, doing peoples makeup, spending time with my family, and reading educational books to help others with self-development and how to help people overcome traumas. I also love reading books in regard to Chicano studies. My favorite authors are Gloria Anzaluda and Alfredo Quinones – Hinojosa. Working with children is my passion and it brings joy to my life.
In my free time I like traveling and visiting different places. I like taking long walks at the beach, camping and road trips. In my free time I do crafts by sewing or creating children's activities for my niece.
My goal in the future is to graduate as a social worker and to visit Mexico City, where my family is from.
---
Candy se graduó de Cal State University, Dominguez Hill con una licenciatura en Psicología.
Me encanta jugar al tenis, maquillar a la gente, pasar tiempo con mi familia y leer libros educativos para ayudar a otros con su desarrollo personal y cómo ayudar a las personas a superar traumas. También me encanta leer libros sobre estudios chicanos. Mis autores favoritos son Gloria Anzaluda y Alfredo Quiñones – Hinojosa. Trabajar con niños es mi pasión y trae alegría a mi vida.
En mi tiempo libre me gusta viajar y visitar diferentes lugares. Me gusta dar largos paseos por la playa, campamentos y viajes por carretera. En mi tiempo libre hago manualidades cosiendo o creando actividades infantiles para mi sobrina.
Mi meta en el futuro es graduarme como trabajadora social y visitar la Ciudad de México, de donde es mi familia.