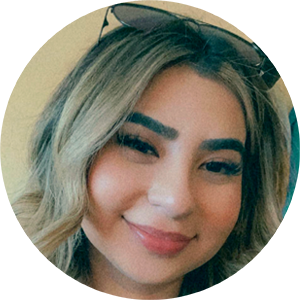 Geraldyne – Early Intervention
Geraldyne joined our family August 16, 2017 as an Early Intervention. She earned her undergraduate degree from Cal State LA in Child Development and recently earned her MA from Pacific Oaks in Early Childhood Education.
Geraldyne enjoys listening to a weekly true crime talk show podcast – Crime Junkie, reality TV and has been spotted on tv many times enjoying Dodgers games and shying away from home runs. She is also a Rams fan and an avid dominoes player who enjoys a friendly wager and usually wins. Her dog Jade can always be found close to her and is very protective of Geraldyne. When it comes to music, Geraldyne enjoys all types and is open to all concerts. Geraldyne has an adventurous side of her and has a goal of sky diving and riding on a hot air balloon.
Geraldyne now wears many hats including being an resource to EI's, Editing Department, Bayley Team, HR, and Executive team. She is always looking to make improvements to our company.
---
Geraldyne se unió a nuestra familia el 16 de agosto de 2017 como Intervención Temprana. Obtuvo su título universitario de Cal State LA en desarrollo infantil y recientemente obtuvo su maestría de Pacific Oaks en educación infantil temprana.
A Geraldyne le gusta escuchar un podcast semanal de programas de entrevistas sobre crímenes reales: Crime Junkie, reality shows y se la ha visto muchas veces en la televisión disfrutando de los juegos de los Dodgers y rehuyendo los jonrones. También es fanática de los Rams y una ávida jugadora de dominó que disfruta de una apuesta amistosa y generalmente gana. Su perro Jade siempre se puede encontrar cerca de ella y es muy protector con Geraldyne. Cuando se trata de música, Geraldyne disfruta de todo tipo y está abierta a todos los conciertos. Geraldyne tiene un lado aventurero y tiene el objetivo de hacer paracaidismo y montar en un globo aerostático.
Geraldyne ahora tiene muchas funciones, incluida la de ser un recurso para EI, el departamento de edición, el equipo de Bayley, recursos humanos y el equipo ejecutivo. Ella siempre está buscando hacer mejoras a nuestra empresa.