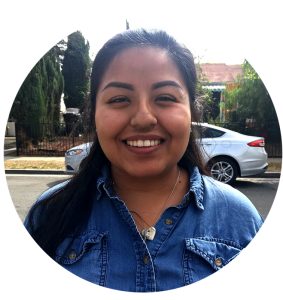 Reina Lily Barba (Early Interventionist)
Graduated from the University of California, Santa Cruz with a BA in psychology and a minor in education. Reina loves reading, practicing embroidery, and gardening. One of her all-time favorite books is the Mastery of Love by Don Miguel Ruiz. It explores Toltec wisdom to self-love. My name is Reina because I was born on a traditional holiday, El Día De Los Reyes. (The Three Wise Kings) on January 6. My goal is to one day sky dive and visit states such as Washington, and Oregon! And hopefully one day countries such as Canada, Colombia, and Japan. It's a pleasure to work with Niños Del Cielo, and see all of children hit their milestone with the help of their parent. Parents are our biggest teachers! Thank you again for this opportunity.
Graduada de la Universidad de California, Santa Cruz con una licenciatura en psicología y una especialización en educación. A Reina le encanta leer, practicar el bordado y la jardinería. Uno de sus libros favoritos de todos los tiempos es La maestría del amor de Don Miguel Ruiz. Explora la sabiduría tolteca hasta el amor propio. Mi nombre es Reina porque nací en una fiesta tradicional, El Día De Los Reyes. (Los Reyes Magos) el 6 de enero. Mi objetivo es un día bucear en paracaídas y visitar estados como Washington y Oregon. Y ojalá algún día países como Canadá, Colombia y Japón. Es un placer trabajar con Niños del Cielo y ver a todos los niños alcanzar su hito con la ayuda de sus padres. ¡Los padres son nuestros mejores maestros! Gracias otra vez por esta oportunidad.