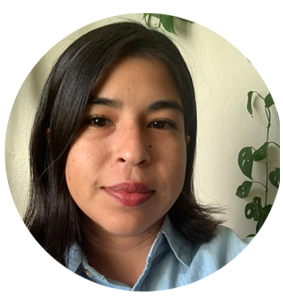 Myrna – Early Interventionist
Myrna joined the Niños family in February 2018 after graduating from the University of Riverside (UCR) with a B.A. in Sociology. Prior to transferring to UCR, Myrna studied Early Childhood Development at Santa Monica Community College.
Myrna interests include hiking, biking, taking long drives on the coast, mountains and the dessert enjoying vegan cuisine, collecting house plants, sustainable living, comedy clubs, coffee and Harry Potter. She read the entire Harry Potter and the Order of the Phoenix in less than 24 hours the first day it came out. During her free time bowling has become the sport of choice, including bowling a 180 game recently and now she is making time for roller-skating plus enjoys a variety of music – watch out Roller Boogie 2. In addition, Myrna enjoys using cameras containing arrays of electronic photodetectors to produce images focused by a lens and instant film photography.
In college Myrna drove a ice cream truck and basically became an expert on parallel parking on busy, crowded city streets, a skill that has become very handy while looking for parking outside client's home while enjoying KUSC 91.5 classical. Some of her favorite artists and groups include Natalie Lafourcade, Chicano Batman, The Internet, Bootsy Collins, Quitapenas, Kali Uchis and any 90's hip hop song.
Myrna enjoys increasing her knowledge about finances, has a goal of returning to school to obtain her MSW (Masters in Social Work) and looks forward to visiting Costa Rica, Tokyo, Bali and wants to take a road trip across the US to visit all the National Parks.
---
Myrna se unió a la familia Niños en febrero de 2018 después de graduarse de la Universidad de Riverside (UCR) con un B.A. en Sociología. Antes de transferirse a la UCR, Myrna estudió Desarrollo de la primera infancia en Santa Monica Community College.
Los intereses de Myrna incluyen caminatas, andar en bicicleta, dar largos paseos por la costa, las montañas y el postre disfrutando de la cocina vegana, recolectar plantas de interior, vida sostenible, clubes de comedia, café y Harry Potter. Ella leyó todo Harry Potter y la Orden del Fénix en menos de 24 horas el primer día que salió. Durante su tiempo libre, los bolos se han convertido en el deporte de elección, incluido el juego de bolos 180 recientemente y ahora se está haciendo tiempo para patinar y disfruta de una variedad de música: cuidado con Roller Boogie 2. Además, Myrna disfruta usando cámaras que contienen matrices de fotodetectores electrónicos para producir imágenes enfocadas por una lente y fotografía de película instantánea.
En la universidad, Myrna conducía un camión de helados y básicamente se convirtió en una experta en el estacionamiento en paralelo en calles concurridas y concurridas de la ciudad, una habilidad que se ha vuelto muy útil mientras buscaba estacionamiento fuera de la casa del cliente mientras disfrutaba de la clásica KUSC 91.5. Algunos de sus artistas y grupos favoritos incluyen a Natalie Lafourcade, Chicano Batman, The Internet, Bootsy Collins, Quitapenas, Kali Uchis y cualquier canción de hip hop de los noventa.
Myrna disfruta aumentando sus conocimientos sobre finanzas, tiene el objetivo de regresar a la escuela para obtener su MSW (Maestría en Trabajo Social) y espera visitar Costa Rica, Tokio, Bali y quiere hacer un viaje por carretera a través de los EE. UU. Parques Nacionales.